Gourmet Getaway 2023
April 29, Chef Brian Redzikowski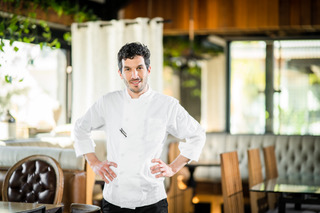 Lauded chef Brian Redzikowski has led a prolific career, cooking in high-profile kitchens throughout the United States and providing his unique perspective on classic French techniques and Asian flavors. The native New Yorker currently oversees kitchen operations and creative menu development for all seven concepts under the SDCM umbrella, a boundary pushing hospitality collective based in Southern California.
Brian joined the SDCM group in 2014 as the opening Executive Chef of Kettner Exchange in San Diego's Little Italy. With an expanded role as Culinary Director of SDCM, Brian is responsible for sustaining and elevating culinary offerings for all current and future SDCM projects up and down the San Diego County coastline while flexing his artistic training in French and Japanese cuisines in the process. Since Fall 2020, SDCM has opened the Mediterranean-style Waverly in Cardiff-by-the-Sea and the Yucatán-inspired Camino Riviera in San Diego's Little Italy. Both stretched Brian's usual focus of progressive American cuisine with French and Asian influences into other global arenas.
Brian's trajectory as a nationally recognized chef has seen him competing in Iron Chef America, cooking at the James Beard House in New York City, throwing down on Beating Bobby Flay, earning a coveted Michelin Bib Gourmand award at Kettner Exchange, being crowned the "king of pork" at the national Grand Cochon competition, and cooking regularly at Outstanding in the Field dinners, among others. His philosophy as a chef is one of responsibility. Responsibility to the business. The world. To the farmers, fisheries, and butchers. And of course, responsibility to the guests.
Contact [email protected] today to secure your place at the table.