Stay in Tune With your Body
We have carefully evaluated all of our fitness and wellness activities to provide the safest possible environment for Ventana guests. Yoga, meditation, Tai Chi, and daily guided hikes are included with your stay, and in-room fitness kits are available by request. To reserve space for a fitness or wellness activity, please contact your Leisure Concierge.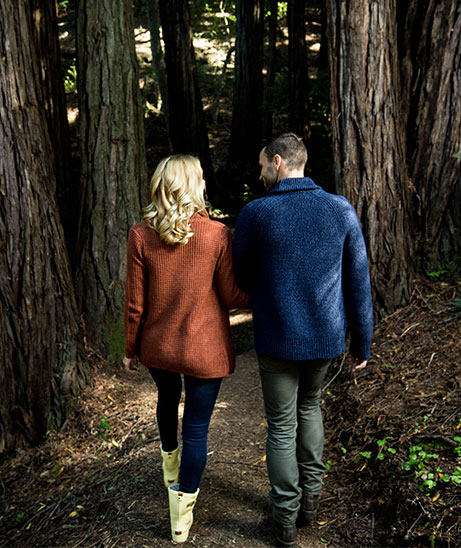 Hiking
Whether you're a hardcore hiker looking for a day of rugged adventure, or a nature lover just out for a stroll, Big Sur will feed your wandering spirit's soul.
Daily Ventana Big Sur property walk: The best way to start any day at Ventana! Every morning at 10 a.m., a trained guide leads an easy one-hour walk around the property, providing historical context, interesting tidbits about the area and information on native flora and fauna. Along the way, you'll enjoy sweeping views of the ocean, pass under towering redwoods and take in the scents and sounds of a classic Big Sur morning. You might even see a California condor or a migrating whale in the distance. Meet at Social House at 10 a.m. Comfortable hiking or running shoes with good tread recommended.
Coast Ridge Road: This intermediate self-guided hike departs from

the path leading to the Upper Pool an

d ascends up the historic dirt road along the ridgeline above the resort, providing epic views of the Pacific Coastline. Hiking boots with good tread recommended.
Big Sur Hikes with Stephen Copeland: Reserve a hike with the region's premier local guide, Stephen Copeland, a natural storyteller with an encyclopedic knowledge of the area who has led hikes around Big

Sur. Additional fees apply.
Hiking Maps
Fitness CENTER
The fitness center is open at 7 am – 7 pm daily and can accommodate up to two people at a time, per Monterey County guidelines. Two stationary bikes are available on the outdoor deck on a first come, first served basis. All equipment is thoroughly cleaned between each guest use.
Morning Movement
Each morning, we offer a complimentary yoga, tai chi, or meditation class to help you greet the new day and awaken fully in mind, body, and spirit. All classes, whether private or small group, will have additional spacing. Yoga mats are also available for in-suite practice. See our Signature Experiences page for days and times.
Fitness Classes
We provide a selection of fitness classes Mondays, Fridays, and Saturdays for guests—including Core Fit, Barre Strength, and Full Body Stretch. See our Signature Experiences page for days and times.