An Unspoiled Haven
Geologically, Big Sur is a youthful region. The Santa Lucia mountain range has taken its shape in a mere five million years through the collision of tectonic plates and the compression of massive faults.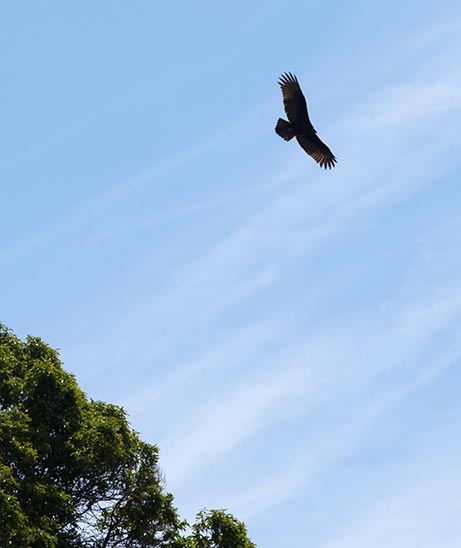 The hard crystalline rocks that constitute the high peaks of the Santa Lucia Range, such as the Ventana Double Cone and Pico Blanco, are made of various types of granite, marble, schist and gneiss. These rocks formed over millennia through the solidification of sandstone, siltstone and limestone.
Today, Big Sur bridges the flora and fauna of Northern and Southern California, while differing markedly from those regions' climates due to the sheer topography of the Santa Lucia Range. The result is a diverse array of ecosystems, including coastal scrub extending along the coast, chaparral particularly in the Ventana and Silver Peak Wildernesses, redwood forests, riparian (riverside) woodlands, grasslands along the slopes of the Santa Lucia Range, oak woodlands, and mixed evergreen forests nestled along deep, dark canyon floors and atop the Santa Lucias' dry, rocky slopes. The ocean off Big Sur is an official Marine Sanctuary and Sea Otter Refuge, with kelp beds, offshore rocks and deep underwater canyons providing diverse marine habitats.
As one of the last areas of unspoiled coastline in California, Big Sur is home to numerous protected species. Keep your eyes peeled for the endangered California condor, the largest land bird in North America, soaring overhead or perched on rocky outcroppings along the highway. In the waves along the shoreline, look for southern sea otters floating and bobbing in the surf. View northern elephant seals, once hunted to near-extinction, gathering on the beaches of San Simeon twice yearly to breed. And scan the horizon in winter and summer for the spouts of migrating blue, gray, orca and humpback whales.
Common Year-Round Residents
| Mammals | Birds | Reptiles |
| --- | --- | --- |
| Black Bear, Black-tailed Mule Deer, Bobcat, Coyote, Gray Fox, Gray Squirrel, Harbor Seal, Mountain Lion, Raccoon, Opossum, Sea Lion, Skunk, Wild Boar | Acorn Woodpecker, Anna's Hummingbird, Black Phoebe, Brown Pelican, California Quail, Chestnut-backed Chickadee, Cormorant, Flicker, Great Horned Owl, Barn Owl, Red-shouldered Hawk, Red-tailed Hawk, Scrub Jay, Spotted Towhee, Steller's Jay, Turkey Vulture, Western Gull, Wild Turkey | Alligator Lizard, California King Snake, Gopher Snake, Mountain King Snake, Western Fence Lizard, Western Rattlesnake |